F L P at Haveri on 01/02/2014
---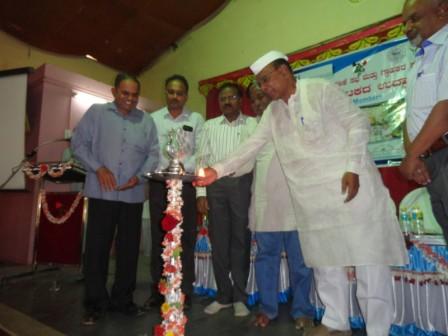 All member mfis, who are operating at Haveri participated in the event Around 500 customers attended the event. Shri Anjanappa, CEO-ZP, Shri Shirur, President- HDCCI, Shri Umesh, LDM- Vijaya Bank, Haveri, Shri N M Patil, MD- IDF and Shri Nagendra Mali, MD- Navachetana Microfinance have attended the event. All AKMI HO staff from Bangalore participated in the event. The event was started with registration of clients of mfis. Sankalp, a CD of effects of multiple borrowing/s and re-lending have shown to the clients before event starts. Event was started with prayer and lighting lamp. all the dignitaries spoke about the importance of MFI loans, advantages by repaying the loan.
During the event launched the AKMI Haveri District grievance redessal cell. This cell works on staff behavior, higher rate of interest charging by MFIs.
After lunch there was feedback session with MFI staff. Many staff expressed their opinion/ suggestions to improve the quality of event.
Event was grand success.