Chikkaballpaur Financial Literacy Program
---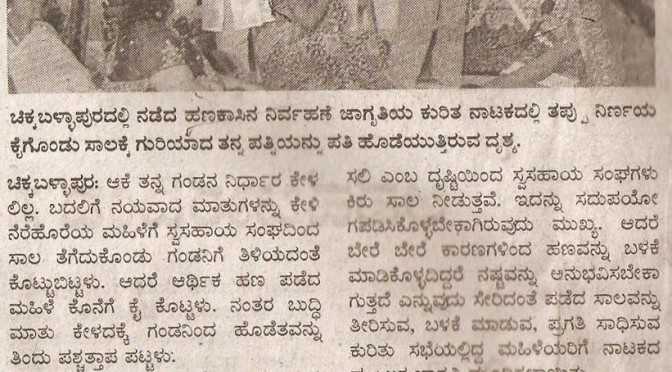 Association of Karnataka MFIs launch Customer Grievance Cell at Chikkaballapur
700 MFI customers attended financial literacy program and debate microfinance issues.
On 07th July 2012: AKMI (Association of Karnataka Microfinance Institutions) has conducted Financial Literacy Awareness Program and Opened the Customer Grievances Redressal Cell . The main aim of the event was to bring financial awareness  among the Microfinance customers of Chikkaballapur Dist and also to opened customer grievances redressal cell at
Ujjivan Financial Services Pvt Ltd,
#431/1, 1st Floor, 2nd cross, Jaibheema Nagar,
Near Govt. 1st grade College, MG Road Cross,
Chikkaballapur-562101.
The event was inaugurating by Sri S Sundaresh, LDM, Chikkaballapur other dignitaries was attended the program.
Sri Vivekanand Salimath, Chairman, AKMI said "This is a unique initiative undertaken by the microfinance sector in any state around the country. It reiterates our commitment to provide outstanding service to the poor and the underprivileged" and explained about the MFIs in Karnataka
A Grievances Redressal Officer, under AKMI, will attend to customer complaints and co-ordinate with the respective MFI(s). Serious problems would be escalated to the AKMI Governing Council.
Sri Samith Ghosh, Vice-Chairman, AKMI explained the position of MFIs in India and Karnataka in Specific.
Nearly 700-strong customers of various MFIs operating in Chikkaballapur attended financial literacy awareness program and provided their views and feedback on the functioning of MFIs and the Credit Bureau. A skit on the dangers of falling into the trap of loan commission agents was presented.
The nature of customer grievances that would be addressed by AKMI will include: staff misbehavior, charging of interest higher than stipulated rate or any unreasonable delay or denial of microcredit. AKMI already runs a toll-free helpline for customers of all MFIs operating in Karnataka. Customers and potential borrowers can call Chikkaballapur Grievances Redressal no: 08156-272077 and they can call BSNL toll-free number 1800 425 5654 at AKMI Head office, Bangalore for addressing their grievances and complaints.